Robotica 2012: 12th International Conference on


Autonomous Robot Systems and Competitions
April 11, 2012, Guimarães, Portugal

The 12th International Conference on Autonomous Robot Systems and Competitions (www.robotica2012.org/EC) is an international scientific meeting in the field of autonomous robotics and related areas, which will take place in conjunction with the 12th Portuguese Robotics Open, a RoboCup Local Event.
As in previous years, we expect the conference to get the Technical co-sponsorship of the IEEE Robotics and Automation Society.
The conference will be held in the beautiful city of Guimarães, Portugal, on April 11, 2012. Guimarães is the cradle of Portugal and it was classified by Unesco as Worldwide Heritage. In 2012 it will be European Capital of Culture.
KeyNote Speaker: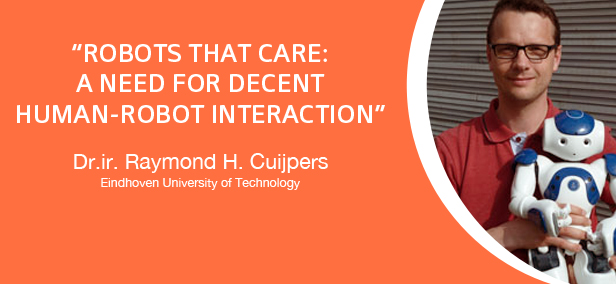 Dr.ir. Raymond H. Cuijpers
Department of Human Technology Interaction
Faculty of Industrial Engineering and Innovation Sciences
Eindhoven University of Technology
Contact Info:http://home.ieis.tue.nl/rcuijper/contact_info.html

TITLE OF TALK: "Robots that care: a need for decent human-robot interaction"




Topics:
Artificial Intelligence;
Architectures for Mobile Robots;
Sensors and Sensor Integration;
Motion and Actuation Systems;
Multi-Robot Systems;
Human-Robot Interaction;
Simulation and Visualization;
Robotic Competitions;
Planning, Reasoning and Modeling;
Cooperative Navigation and Control;
Cooperative Perception;
Computer Vision and Image-Processing;
Navigation and Control of Mobile Robots;
Recognition, Localization, Tracking, SLAM;
Robot Learning;
Applications of Autonomous Intelligent Robots;
Computer and Robotic Entertainments.


Important Dates:
All dead-lines are 23:59 GMT
30th January, 2012 Submission of full-length papers
2nd March, 2012 Notification of acceptance
11th March, 2012 Camera Ready Papers
18th March, 2012 Early Registration Deadline
11th April, 2012 Conference takes place


Submission guidelines:
Authors should submit their papers electronically in PDF format via easychair.
(https://www.easychair.org/conferences/?conf=robotica2012)
Six pages in the standard IEEE format are allowed for each paper, including figures. Papers must be written in English following the standard IEEE guidelines.
(http://www.ieee.org/conferences_events/conferences/publishing/templates.html)


Conference Fee:
100 € if payment before 20th March 2012,
150 € if after.
This e-mail address is being protected from spambots. You need JavaScript enabled to view it or This e-mail address is being protected from spambots. You need JavaScript enabled to view it


Programme Committee
Aníbal Matos (FEUP - PT)
António Fernando Ribeiro (UMinho - PT)
António Jesus Bandera Rubio (UM - ES)
António Paulo Moreira (FEUP - PT)
António Pascoal (IST - PT)
Bernardo Cunha (UAveiro - PT)
Carlos Cardeira (IST - PT)
Carlos Carreto (IPG - PT)
Daniele Nardi (URoma - IT)
Dimos Dimarogonas (KTH-SE)
Eduardo Silva (ISEP - PT)
Estela Bicho (UMinho - PT)
Federica Pascucci (URoma – IT)
Fernando Lobo Pereira (FEUP - PT)
Filipe Silva (UAveiro - PT)
Gerhard Kraezschmar (Fh-Bonn-Rhein-Sieg - D)
Gil Lopes (UMinho - PT)
Helder Araújo (UCoimbra - PT)
Hugo Costelha
João Caldas Pinto (IST - PT)
João Miguel Sousa (IST - PT)
João Sequeira (IST - PT)
Johannes du Buf (UALG – PT)
Jorge Dias (UCoimbra - PT)
Jorge Ferreira (UAveiro - PT)
José L. Lima (IPB - PT)
José Sá da Costa (IST - PT)

José Sá da Costa (IST - PT)
José Santos-Victor (IST - PT)
José L. Azevedo (UAveiro - PT)
José Tenreiro Machado (ISEP - PT)
Luís Almeida (FEUP - PT)
Luis Moreno (UMadrid Carlos III – ES)
Luís Gomes (FCT/UNL – PT)
Luís Louro (Uminho - PT)
Luís Paulo Reis (UMinho - PT)
Luís Seabra Lopes (UAveiro - PT)
Olivier Sigaud (UPMC – FR)
Manuel Lopes (INRIA – FR)
Maria Isabel Ribeiro (IST - PT)
Norberto Pires (UCoimbra - PT)
Nuno Lau (UAveiro – PT)
Paulo Costa (FEUP - PT)
Paulo Menezes (UC - PT)
Paulo Oliveira (IST - PT)
Paulo Goncalves (IPCB - PT)
Paolo Fiorini (UNIVR - IT)
Philippe Martinet (CNRS – FR)
Rui Cortesão (UCoimbra - PT)
Rui Rocha (UCoimbra - PT)
Sergio Monteiro (UMinho-PT)
Urbano Nunes (UCoimbra - PT)
Vicente Matellán (ULeon - ES)
Vítor Santos (UAveiro - PT)